Welcome to the website of Pukeora Estate...
Pukeora Estate is a stunning hilltop setting for our family run vineyard, boutique winery and function venue.
Our wines under the Pukeora stable of labels are available for tastings and sales at our cellar door or via our on-line sales.
Accommodation for groups of up to 120 people is available at reasonable prices.
Happy browsing. Any comments/questions ? Please email us.
---
Venue & Hospitality
Pukeora was once a hospital, now hospitality is the name of the game.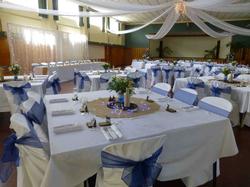 The Venue is the ideal centre to hire for an event.
The extensive indoor facilities are available for exclusive hire and represent extremely good value for money. They comprise sleeping accommodation for groups, large reception areas and classrooms, a commercial kitchen, and a pool.
Groups of 20+ up to 116 people can be accommodated mostly in twin/double rooms. Meals/bar service can be provided or groups can hire on a self-catering basis.

Many and varied activities are available on site or nearby. We are delighted to host the studio of the internationally renown artist Cefyn Gauden. Cefyn's contemporary paintings can be viewed by appointment. See activities

Check out the amazing variety of settings as a film location

Read about the history of Pukeora
---
Vineyard & Winery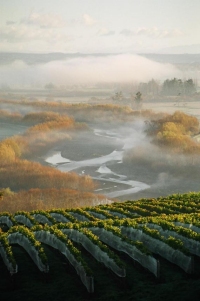 The stunning limestone hillside was purchased in 2000 with the principle purpose of planting grapes. Over the next 3 years 5 Ha of vines were planted and a small boutique winey was created in an original sanitorium basement.
Award winning wines grown on our limestone slopes are available. Our wines are sold under the Pukeora Estate label and the premium Pukeora Ruahine Range label. Our wines include Pinot Gris, Chardonnay, Pinot Noir, The Benches Red (Merlot based blend) and a "sticky" Noble Selection of chardonnay and semillion grapes.
We offer wine tastings most of the time. On-line sales are also available. For more information see our Wine pages.
---
What's New
Pinot Noir Geographic Boundary Redrawn: A great review for Central Hawke's Bay wines by John Saker in The Dominion, 22 Jul 2017. See Article.
Cellar Door: The cellar door is open in summer season -> Friday to Sunday, 11 a.m. - 5 p.m., October to March. Come in for a complimentary tasting, and view local artist Laura Wilson's paintings in our new gallery (for more see goldstarwork.com). For larger groups a small charge ($5) may apply which can be offset against a wine purchase.
Export: We have since Feb 2014 been exporting some of our wines to Singapore. If you happen to be passing through Singapore there is no better pace to grab a wine (on and off sales) and a bite to eat than Merchants of Singapore.
Latest Vintage: The 2016/17 season started a little tardy and cool but caught up quickly from December and continued hot and dry through to mid February. The "wheels came off" the weather late February when the rains started. Luckily our grapes were still at the fairly hardy stage and held on well despite several deluges from cheeky tropical storms. By mid April the weather settled and enabled us to pick some surprisingly nice fruit - and a respectable 20 tonnes of it. The wines are now all safely cellared in barrels and tanks, mostly maturing gently over the winter period. The wild ferment whites will most likely quietly "prickle" away fermenting until mid summer.
The prior autumn of 2016 vintage being warm and dry produced some lovely fruit albeit a modest sized crop.
Wifi for Guests: For those guests who need wifi we have free wifi available through various areas of the complex (not guranteed in all bedrooms but in many of the social areas wifi is available).
For local information a new website provides a great guide to our district: www.chb.net.
---
*** Events ***
The 14th Festival went off with a bang. Weather was great, crowds abundant and smiles all round.
We are proud to be hosting the 15th annual The Festival (art, crafts, food, gardens, antiques and entertainment not forgetting of course, wine) during September 7th-10th 2017 with around 140 artisan stall holders touting their wares. The Festival is always a great success often with 3-4000 visitors over the 4 day event. See www.thefestival.org.nz. Hope to see you at the next Festival.
The next quilting exhibition will be in March 2018.
---
Like us on Facebook ?
You can see us on facebook "Pukeora Estate: Wines, Venue, Accommodation".